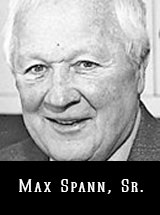 PSPA is sad to announce to its members the passing of Maximillian "Max" Spann, Sr. on August 2, 2017.
Maximillian "Max" Maurice Eble Spann Senior, 89, of Washington Twp, NJ passed away peacefully on August 2nd, 2017 on his farm surrounded by his family. Max was born on June 20, 1928 in Morristown, NJ to the late Paul and Josephine Eble Spann. He attended both Delbarton School and Bernardsville High School, graduating in 1947. After earning his Bachelor's Degree from the School of Agriculture at Rutgers University, Max served proudly in the US Army during the Korean War.
His youth was spent in Oldwick, where his family imported cows from the Isle of Jersey, starting a passion that would last his lifetime. Following his discharge from the army, he acquired a herd of Jersey cattle and opened Spann Jersey Farm. There he ran his own creamery and milk delivery route. He later sold his dairy operation and eventually became a real estate broker. He grew his business into one of the most respected real estate firms in the state. Max is credited with the innovation of marketing real estate at auction and his firm is now one of the largest of its kind in the nation.
Max devoted his in his efforts for many charities and his church. He was an active supporter of the pioneer movement for the establishment of homes in the community for the developmentally disabled population. While serving on the boards of ARC of Somerset County, the ARC of Warren County, and the ARC of New Jersey, he was pivotal in the founding of summer camps for the developmentally disabled.
Max is survived by his wife of 60 years, Jean, and their children: Theresa and Michael Fasano, Elizabeth Spann, Maximillian Jr and Loren Spann, and Louis and Mary Jane Spann. He is remembered by his siblings: Josephine Magness, Elisabeth Kneser, William Spann, John Spann, and Ronald Spann. He is preceded in death by a brother, Paul Spann and a sister Mary Romano. He is missed by his grandchildren: Sarah, Molly, Stephanie, Maxinne, Maximillian III, Alex, Ivan, Lucy, Louis, Liane, and Maurice.
In lieu of flowers, donations may be made in Max's name to the ARC of Warren County, 319 West Washington Ave, Suite 2, PO Box 389, Washington, NJ 07882 or Abilities of Northwest Jersey 264 NJ-31, Washington, NJ 07882